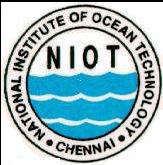 National Institute of Oceanic Technology (NIOT)
NATIONAL INSTITUTE OF OCEAN TECHNOLOGY
(Ministry of Earth Sciences, Govt. of India)
Velachery–Tambaram Main Road, Pallikaranai, Chennai-600 100
Phone : 91-44-6678 3310/6678 3300 Fax : 91-44-6678 3308
Name of the Post :
Project Senior Executive (Hindi)
Number of Post
: 1
Essential
: -Master's degree in Hindi from a recognized University with English as a compulsory or elective subject at degree level.OR Master's degree in English from a recognized University with Hindi as a compulsory or elective subject at degree level.OR Bachelor's degree in Hindi from a recognized University and English as one of the elective subjects.
Desirable
:- Working Knowledge of Hindi Typing with a speed of 25 words per minute.05 years experience as Hindi Translator in the Grade Pay of Rs.2800/- in Govt.PSU/Autonomous Bodies.
Job Requirement:-
(i)Translation of official documents (including the papers to be placedon the tables of Lok Sabha and Rajya Sabha) into Hindi;
(ii)Getting the Institute's publications translated into Hindi as per OLAct;
(iii) Assisting Hindi Officer in convening Hindi meetings, workshops;
(iv)Assisting the officers / staff in learning Hindi, communicating in and using Hindi for official work;
(v)Attending Hindi meeting organized by TOLIC and other C.G. organizations for effective implementation of OL;
(vi)Ensuring compliance of the provisions of Official Languages Act, Rules and orders;
(vii)Implementing Hindi Teaching Scheme and OL Policy at the Institute as well as regional centres;
(viii)Furnishing periodical Returns to the Ministry and TOLIC;
(ix)Preparation and submission of notes and correspondence in bilingual form.
Salary
:- 29400-32500
Age Limit
:- 35 years
How To Apply :-
Applications should be sent to The Director, National Institute of Ocean Technology, Velachery –Tambaram Main Road, Pallikaranai, Chennai–600100, INDIA so as to reach on or before the due date, duly superscribing on the envelope "the post name and discipline for which applied". The Advt. No., Post No., Post Name and Discipline should be clearly indicated on the envelope.
LAST DATE FOR ONLINE APPLICATIONS
: 06-08-2012
LAST DATE FOR RECEIPT OF APPLICATIONS
: 13-08-2012
Details will be available at : http://www.niot.res.in/recruit/cv/application/NIOT-E&P-03-2012/06-08-2012-Project-Advt-web.pdf